Hey guys,
If I wasn't rather busy right now I'd explain the whole origan of the idea of Baron von Munchhausen, the story and why I'd like to animate it. But I will explain. One day. Hopefully...
So today I made his body, he's a baron from the 1700's so he needs to look smart and posh. I've been designing him many times and my most rescent design seemed to fit the character perfectly, so I went along with that one. Unfortunately, my camera batteries are flat, so for todays post I have to use my rubbish one.
This puppet was more trial-and-error sort of thing, so I didn't make it a particuarly nice armature, but it worked fine.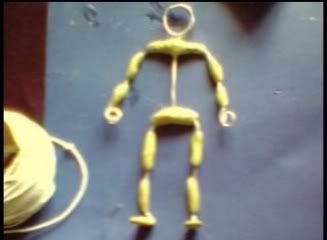 I then used a very simple version of the build up technique, just with felt and foamy dish cloths to fill out the stomach. I glued it on with a strong plastic glue, which appears to be pretty much the same as epoxy, except without the two parts and dries alot quicker - perfect!
Once I'd finished all the felt fabrication, I added on little details, the sort of thing a Baron would have worn. The main bits are just string with gold paint, glued down. The rope from his chest to shoulder was made from lots of pieces of small alluminium wire rolled up together. The shoulder things are just cardboard painted gold with wire drooping down. As I didn't put tie-downs in the feet (which I now very much regret) I had to make the boots out of something that would stick to the set floor. The only thing I could think of was plasticine - which I had lots of lying around, so I went for it. They doesn't look great and I may well change them, but they'll do for now!
I'm really sorry about the quality - i will upload much better pictures tommorow!
It's not quite finished - it will need a bit more work!
Also, I did a walking test of him, comment if you want to see it!
Marnik